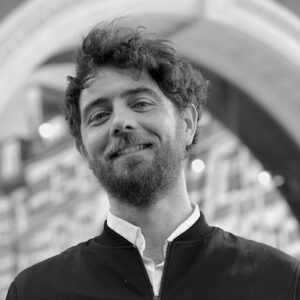 Ph.D. Candidate – Department of Design, Politecnico di Milano, Italy
Luca Alessandrini grows up immersed in the world of design and entrepreneurship working as designer and project manager for Stilema s.r.l. from 2010 to 2015 traveling between China, Italy and Middle-East.
Intrigued by innovative disruptive processes and ideas generation, in 2014 Luca moves to London to join the double MSc/MA in Innovation Design Engineering between Royal College of Art and Imperial College.
On 2016, Luca patents an innovative approach to exploit the acoustic properties of natural composite materials. With the use of this technology, he designs a series of musical instruments built using a silk and spider silk composite obtaining international recognition and winning several awards.
On 2020, Luca became a funded PhD student at the Politecnico di Milano fostering his research previously developed working with natural materials; meanwhile Luca is consulting brands, designing and engineering innovative products with an aware perspective leading to sustainable production paths.
CURRENT PROJECT
ORGANIC WASTE EXCHANGE NETWORK/PLATFORM
This research aims to create an "organic waste network/platform" able to supply waste and biodegradable products that could be turned into "raw materials". In this regard, the research will focus on the identification, classification and mapping of a series of waste products with properties that enable them to be reintegrated in scalable production processes and to create new sustainable materials suitable for design and consumption products.