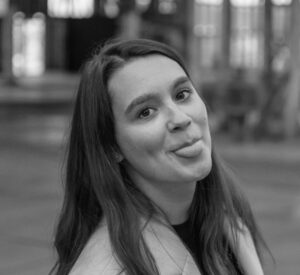 Ph.D. Candidate – Delft University of Technology, The Netherlands.
SUPERVISORS
Prof. dr. Karana, E.
Jun Wu
Verindi Vekemans is a design researcher who did her bachelor's and master's in Industrial Design at the University of Technology in Eindhoven. During her master's she became interested in Shape-changing interfaces and interactive materials. Ultimately, she graduated cum laude with her master's degree in providing insight into Artificial Intelligence through Shape-changing interfaces in the context of shopping for clothes online. Her research within the NextSkins project is about developing generative digital tools for bio-designers. In her research, she uses research through design and hands-on explorations to get to know the materials she works with. In addition, she likes to make prototypes and research artifacts to test her research questions or to make her ideas tangible and test them with users. She is interested in speculative design, where she has written a research paper about making a space suit for Mars using only materials that can be found on Mars. Furthermore, she has a research paper on Liquid Crystal Fibers, which can change shape through heat. Within this project she worked on a smaller scale as the fibers were the size of a thick hair. With all this knowledge of shape-changing materials, she hopes to gain insights with living materials within Biodesign to ensure that in the future we will make more use of living materials and biodesign in the correct and sustainable way.
CURRENT PROJECT
NextSkins Project, creating generative digital tools for bio designers. Verindi will focus on the Living Regenerative Skins and will look at tools for biodesigners to better understand, map and create applications for the material. This involves combining Biodesign and Generative Design, focusing on the variability of the material and how this can be controlled and predicted.
Publications
Visscher, M., Vekemans, V., Camps, I., Tomico, O. & Andersen, K. (2021). IASDR 2021. Life on Mars: First Person Speculation in the (Imaginary) Everyday.

Vekemans, V., Leenders, W., Zhu, S., & Liang, R. H., (2021, September). MOTUS: Rendering Emotions with a Wrist-worn Tactile Display. In 2021 International Symposium on Wearable Computers (pp. 158-161).